The Prize Medals 1912
In accordance with the General Programme of the Games, as determined by the International Olympic Committee, the first prize in individual events was to consist of a gold medal, but, in team events, of a silver-gilt medal for each member of the team; the second prize, for all competitions, was a silver medal, or medals, and, for the third prize, a bronze medal, or medals.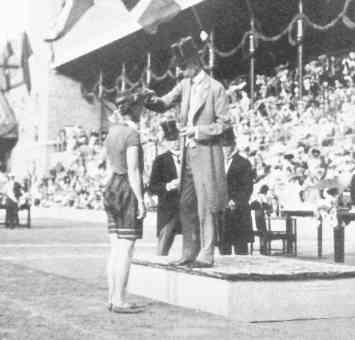 H.M. the King, crowing the winner of the marathon race 1912



The Swedish Olympic Committee resolved, however, to make the following exceptions from this rule: A gold medal was to be presented to each member of the winning teams in the Horse Riding Competitions; the first prize in the Lawn Tennis Doubles was to be a gold medal for each member of the winning pairs, and, in the Yacht Racing, as first prize in the 12-metres Class, a gold medal was to be awardet both to the successful helmsman and to his mate or leading hand.




After the Swedish Olympic Committee had come to the resolution, in May 1910, that the prize medals should bear the same obverse as that adopted for the London Games, and that Mr. Erik Lindberg should be asked to make a design for the reverse of the medal, a sketch by the above-mentioned engraver was laid before the said Committee at a meeting held on the 14 November, 1910, and was approved of after a short discussion.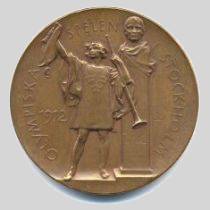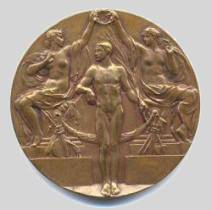 (Source document: Official Report 1912, page 160)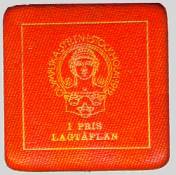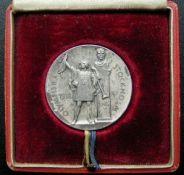 The presentation cases were blue, gold
red or green respectively.
In track and field, the winner receibed a gold medal, the socond a silver an the third a bronze medal.
In the team events, the first place carried with it a diploma and each member of the team got a vermeil medal. Those in the second- and third-placed teams had silver and bronze medals respectively.
There were always exceptions: in the equestrian events a medal went to each member of the firtst team; the same applied in the doubles teams. The helmsman and his second, winners in the 12 metre yachting class, each received a gold medal.

(Source document: Olympic Review, 1972)