The Torch
Being a primary symbol of the Olympic Games, the Flame demands an appropriate setting. With this uppermost in mind, Georges Huel and Michel Dallaire of COJO's Graphics and Design Directorate set out to create the torch that would carry the Flame.
Its design was functional. The torch was made of aluminium, and its weight did not exceed 836 grams, a significant factor as each bearer had to run one kilometre holding it with one hand. The top of the torch was designed to provide the required ventilation for the fuel. Painted black, it offered a contrast that accentuated the Flame's photogenic qualities. In its function and design, this torch was a reminder of the ancient Greek torch, recreated in modern and refined lines.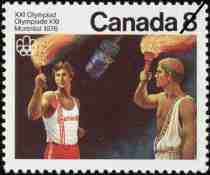 Protection of the Flame
There were at least three replacement flames per convoy: one burning propane gas (researched and designed by the chief armorer), and two burning a commercial lamp oil. Three replacement flames were also maintained throughout the duration of the Games, at the Olympic Stadium and at the operations centre located at COJO headquarters, so that the urn could be relit with the original Flame if necessary.
The Torch-bearers and Escorts
More than 700 persons were chosen to relay the Flame from Ottawa to Montréal, and from there to Kingston where the yachting competition was held. Those who were not chosen as bearers could be part of the escort that accompanied the torch-bearers from one kilometre to the next.