The Organizing Committee presented a specially designed holder to each participant as a souvenir of the Torch Relay Run, this being designed by the sculptor who created the Olympic Bell, Herr Lemcke. The route over which the Olympic Fire was carried from Olympia to Berlin was engraved on the grip of the holder, and the Krupp Firm in Essen generously contributed a sufficient number of these in polished, stainless steel. The words, "In gratitude to the bearer," were also engraved on the holder.
Its entire length was 10.4 inches and its weight 1 pound. The torches, which contained a wooden grip at the lower end, could be fitted firmly into these holders. The plate at the tip of the holder protected the runner from flames which might be whipped by the wind. Holders and a special certificate for each runner and organizing manager were despatched to the National Olympic Committee in March, 1936.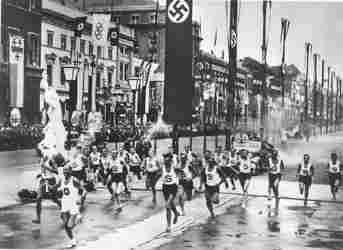 A special commemoration diploma was designed for the participants in the Olympic torch relay run from Olympia to Berlin, this being created by the Berlin painter and graphic artist, Hönig. His design revealed the fire altar and Olympic rings in yellow-brown tones with the eagle as a background and the Olympic Bell in colourless embossing. Each certificate contained the facsimile signature of the President of the Organizing Committee and was inscribed with the name of the participant. The relationship between this torch relay run of the modern Olympic Games and the ancient festival was expressed in the brochures published in connection with this event, these being designed in an especially artistic manner. The reproduction of a Hellenic relief from the Palazzo Colonna in Rome was utilized for the cover, this having been generously permitted by the Prince of Colonna. The relief, which depicts two Erotes as torch bearers, was used by the creator of the Olympic Bell, Walter E. Lemcke, as the basis of his design.
(Source document: Official Report 1936, Vol. 1, page 126, 512)