Torch Relay
The Olympic flame lit up the world for 16 days at the 24th Seoul Olympic Games and all the activities surrounding the flame were carried out flawlessly by the SLOOC with the great cooperation of the Hellenic Olympic Committee (HOC).
The lighting of the flame at the Temple of Hera in Olympia and the torch relay in Greece were conducted under an agreement signed between the SLOOC and the HOC.
The Olympic flame was flown from the Greek capital of Athens to Korea`s southernmost point, Cheju Island, aboard a special Korean Air flight on an air route between the two cities that included a stopover at Bangkok, Thailand.
The torch relay, originating from Cheju, took a 4,167.8 kilometer route to Seoul, passing through 21 major cities. The torch relay route, divided into a total of 1,595 running sections, was covered by 1,467 torchbearers, 2,782 assistant torchbearers and 16,640 escort runners over 21 nights and 22 days.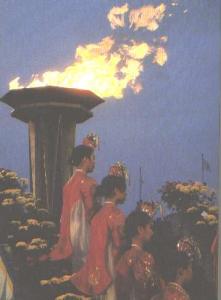 During the 22-day odyssey, the torch was relayed in various ways on foot,m on horseback, aboard ships, cars, bicycles, and motorcycles. The torchbearers were from all walks of life, including politicians, artists, clergymen, athletes, handicapped people, children and the elderly, as well as overseas Korean residents, journalists from various countries and representatives of NOC`s. Each took their turn to make the torch relay an event truly symbolic of harmony and progress.
The torches and other equipment used in the relay such as safety lamps and mobile cauldrons were all developed domestically with unique designs.
In each city through which the torch relay passed, art troupes from Korea and abroad celebrated by performing their traditional folklore as a tribute to the success of the Games.

Timetable of the torch relay
- Aug. 23-25: From Olympia to Athens (374 kilometers)
- Aug. 25: The flame was handed over to SLOOC at 8:30 p.m. at the Panathenian Stadium, Athens.
- Aug. 25-27: Flight from Athens to Cheju
- Aug. 27: Ceremonies at Cheju International Airport for 90 minutes from 11 a.m. to celebrate the
arrival of the flame on Korean soil.
- Aug. 27 - Sept. 17: 22-day and 4,167.8 kilometer torch relay from Cheju to Seoul.
- Sept. 17: Lighting of the flame at the Olympic Stadium in Seoul at 12:41 p.m.
(Source document: Official Report 1988, vols. I, Page 364)
Read more: vols. I. , page 367 - 387