Preparation for the relay called for close cooperation between the OCOG- 80 and the NOCs of Greece, Bulgaria and Romania, with whom relevant agreements were concluded. In 1978-1979, on the initiative of the Organising Committee, local organising committees were formed in the Republics, regions, districts, and towns of the USSR whose territory was crossed by the route of the relay. These committees were to prepare for the relay and assist its passage through their territory. Formed on a voluntary basis through the local Soviets of People's Deputies, these committees were to draw a wide range of enterprises, institutions, collective farms, public organisations and individual citizens into their work. Preparations for the relay were accompanied by publicity about physical culture and sport, which created a new influx of people into sports clubs and groups. New forms of mass competition began to emerge, for example such open athletics matches as "The Olympic Kilometre", "The Olympic Torch",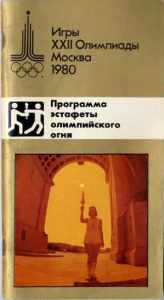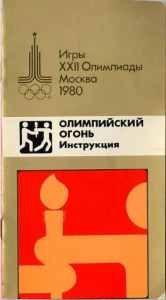 "All the family at the start", "Olympians among us". These took place not only in the regions which lay on the route of the relay but in other places too. These competitions were held in Greece, Romania, Bulgaria, as well as in the USSR. It is worth noting that many of these sports programmes, which were begun during the period for preparation for the relay of the Olympic flame, have since become regular events. In August-September 1979 a delegation from the OCOG-80 went on a tour with the aim of clarifying the route of the relay and getting to know the features of the road from Olympia to Moscow. Representatives of the NOCs of Greece, Bulgaria and Romania took part in this tour, as did delegates from the organising committees responsible for the relay on its passage through the USSR. Following on from this tour a plan of measures to prepare the route of the relay of the Olympic torch was worked out and its implementation was concluded in May 1980. The whole length of the route was lined with the Olympic emblems, the stages were marked out and signposts were produced showing the distance from Olympia to Moscow. Parking and service areas were prepared for the accompanying column, and hotels were reserved for the escorting groups.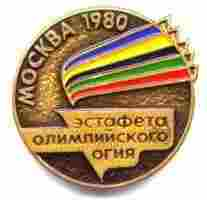 The torch bearers were handpicked by sports and public organisations. The right to carry the Olympic torch was considered to be a great honour. In choosing the runners the basic criteria were the personal sports achievement of the candidate, the ability to complete the 1,000 m distance in no more than five minutes, the contribution which each candidate had made to sports organisations, and medical approval.

(Source document: Official Report 1980, Vol. 2, page 262, 264)