The Three Phases of the Torch Relay
The first phase lasted 7 days (25 to 31 March 2004), during which the Flame travelled around the Peloponnese, to the islands of the Saronic Gulf, and was handed over by the Hellenic Olympic Committee President to the ATHOC President in a ceremony at the Panathinaiko Stadium on 31 March 2004. The Flame remained there, burning in a special cauldron, for 64 days.
On 2 June, the Flame was carried by the Chief Operating Officer to the Athens International Airport, and was delivered to the Torch Relay Team by the President of ATHOC. In a modest ceremony attended by the Ambassadors of the countries the Flame was about to visit. In the early hours of 3 June 2004, the second phase began, setting off for Sydney, the host city of the last Games in 2000. The Torch travelled to Melbourne, to Tokyo, to Seoul and Beijing, the bustling streets of Delhi and Cairo - its first visit on African soil - and Cape Town.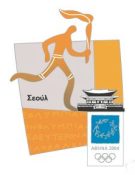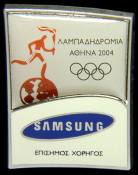 Torch Relay Pins

Crossing the Atlantic Ocean, the Flame landed in colourful Rio de Janeiro, Mexico City, and then the American cities of Los Angeles, St. Louis, Atlanta and New York. Having visited Montreal, the Olympic Flame returned to Europe passing trough: Antwerp, Brussels, Amterdam, Geneva, Lausanne, Paris, London, Barcelona, Rome, Munich, Berlin, Stockholm and Helsinki. In the last part of its international route, it visited Moscow, Kiev, Istanbul, Sofia and Nicosia.
On 9 July, the Flame returned to Greece, and began the third and final phase of the Torch Relay in Crete in the Olympic city of Heraklio. From there, it began the second leg of the Greek route, a trip lasting 36 days. In Greece, the Flame lit up all 54 prefectures, stopped at 174 destinations, including 32 islands and 24 archaeological and historical sites. Altogether it covered 6.600 kilometres on Greek Territory - 2.500 km on foot, 2.800 km in convoy and 1.300 km by helicopter.
The first truly Global Torch Relay was completed on 13 August 2004, when the Greek Olympic Gold Medallist (Mistral) Nikolaos Kaklamanakis lit the Cauldron at the Olympic Stadium, watchedby 4 billion TV viewers during the Opening Ceremony of the Olympic Games.
Soursce document: Official Report 2004, Vol. II, page 105