Olympic Games 1988 Seoul
24th Olympiad
SOUTH KOREA
Sports: 27
Events: 237
National Teams: 159
Participants: 8,451
Participation Medal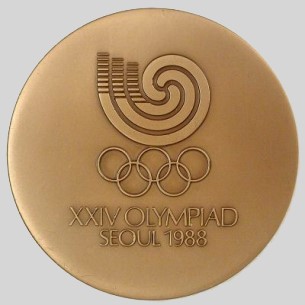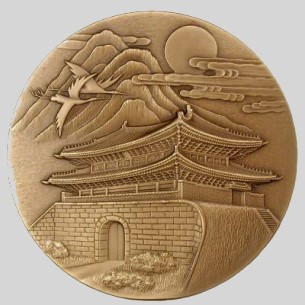 GENERAL DATA OLYMPIC PARTICIPATION MEDAL 1988
Material:
Bronze
Weight:
116 gr
Diameter:
60 mm
Design by:
Kim Kwang-Hyun
Thickness:
6 mm
Mint:
Korea Security Printing and Minting
Obverse:
Namdaemun (Sout Gate)
Reverse:
Seoul Olympic emblem
On the obverse side of the participants' medals were put Korea's National Treasure No. 1, Namdaemun (South Gate), flanked by such familiar motifs in ancient Korean folk paintings as the mountain, cloud, crane and the sun. The reverse side showed the Seoul Olympic sash and the order, venue and the year of the Games under it. The participants' medals, which are the IOC's official commemorative medals, were presented to all participants including the athletes and delegates.
The participants' medal was made of bronze in the same size with the bronze medals. The medal containers were made of high-quality blue velvet, giving fresh yet soft impression.
A total of 20,400 participants' medals were produced and distributed to all participants through the Olympic Village, Headquarters Hotel and designated hotels.
(Source document: Official Report 1988, Vol. 1., page 422)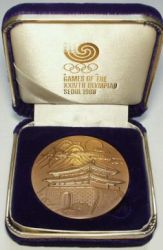 Presentation box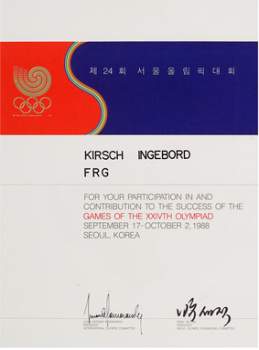 Participation Diploma 1988 Seoul