Mascots 2004
In the beginning of 2001, an international design tender was announced for the creation of the mascot. A total of 196 companies and individual designers from around the world responded to the mascot tender: 127 entries eventually qualified providing the Evaluation Committee a wide variety of proposals. The winning proposal was submitted by the Greek design agency Paragraph Design Ltd. and the creator was S. Gogos.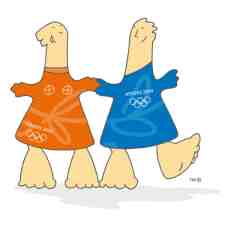 Athena and Phevos were presented to the public on 4 April 2002 and made an impact from the very beginning. Athena and Phevos were two children, a sister and a brother, related to ancient Greece. The source of their inspiration was an ancient Greek doll from the 7th century BC. The bell-shaped terracotta doll has movable limbs and is dressed in a tunic. In ancient times, these dolls were known as "daidala". Their names were inspired by two Olympian Gods: Athena, goddess of wisdom and patron of the city of Athens. Phevos, the Olympian god of light and music, known as Apollo.
Athena and Phevos quickly became part of Greek everyday life and impressed everyone with their presence during the Games. Different poses were created to show them engaging in carefree, spontaneous play, reminding us all that participation is worth more than victory. While playing, they did not miss a single Olympic Sport. They explored every discipline with playfulness and team spirit. With a wide smile on their face, Athena and Phevos never ceased to find new ways to meet heir challenges. The two children symbolised the Olympic ideal, noble competition and equality, through creativity and sports. They reminded everyone that humanity is, and will always remain, at he centre of the Olympic Games.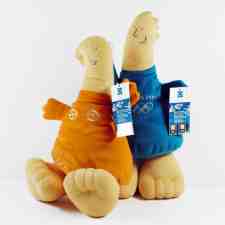 The mascots were very important for the success of the Licensing programme. Flexibility and variety became a key consideration for the licensing applications. A special typeface was created and a procedure was set in place so that licensees were able to work with the mascots creator under the direction and supersision of the Organising Committee. Sponsors also benefited from these provisions and had the opportunity to incorporate Athena and Phevos in their corporate or product communication.
More than 100 poses were created until the end of the Games to accommodate the needs for design applications using Athena and Phevos.
Source document: Official Report 2004, Vol. 1, page 320
© ATHOC, Copyright ATHENS 2004, ORGANISING COMMITTEE FOR THE GAMES