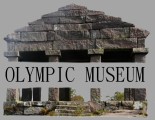 Olympic Torch Replica 1936 Berlin
Original
1936


Replica

1972

Berlin 1936 torch made in 1972 for the Munich Olympic Games as official presentation torch. Steel, 27,2 cm tall, foot 6 mm tall. The original torch is very hard to differentiate from the replica.

A clearly difference is the

higher foot.