The mascot 1992
Like the emblem, the mascot identifies a particular Olympic Games, but in a way more guaranteed to inspire affection. To choose the mascot for Barcelona, another closed competition was called, also with six designers: Fernando Amat, Angel Beaumont, Francesc Capdevila, Javier Mariscal, Francesc Petit and Pere Torrent "Peret". The same jury that had to choose the Olympic emblem examined the different proposals for the mascot, talked to the designers before they began to implement the projects and, on 29 January 1988, chose the one by Javier Mariscal. It consisted of an image of a human-looking dog, with open arms, sketched in a thick, uneven, black line and treated with a false perspective that gave it a flattened effect. Although it was an anthropomorphic animal, the quality of the drawing and the treatment of colour (flat colours with neither gradations nor textures and a tendency to shun the primaries) made it quite different from most earlier Olympic mascots, all of which had been clearly influenced by the Walt Disney school of cartoons.

In order to make the mascot more acceptable to the general public, Josep M. Trias used computers to soften the shape. Once the definitive image of the first official mascot had been achieved, it was baptised. The name chosen was "CoBi", which made an allusion to the initials of COOB'92 and was easy to remember and pronounce in most languages. The arbitrary combination of upper and lower case letters and the typography in which the name was presented (an alphabet created specially by Mariscal) helped to make "CoBi" more than just a name: it was a logotype.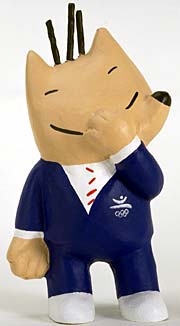 The shape of the mascot was gradually modified until it reached its definitive appearance, by when it had already been introduced to the public as the second Olympic symbol of Barcelona'92.
(Text from Official Report 1992, Vol. 321)