The Olympic Identity Card
At the end of the first half of 1959 the Olympic Identity Card was approved. The first thought of the Organizing Committee was to obtain from the Ministry for Foreign Affairs and from the Ministry of the Interior authority for this Olympic document to be considered as a normal passport, as well as a permit for the carrying of arms for sports shooting.
The Olympic Identity Card was printed on " papertex " produced by the Snia-Viscosa Company. The document, consisting of four pages besides that of the cover, contained on the first page the photograph of the bearer, on the second a complete list of personal data while the third and fourth pages contained the validation of the Olympic Committee and of the Authorities of the Country to which the bearer belonged.
In addition, the Identity Cards were enclosed in covers in six different colours, these being handed over at the moment of validation of the Olympic Identity Card. The identity cards were valid from 1st June to 30th September 1960. According to category, all bearers of the Olympic Identity Card, equipped with the special badge handed to them on their arrival at Rome, were entitled to free transport on the various forms of transport placed at their disposal by the Organizing Committee for travelling to stadia and competition, and training grounds. In addition, the Olympic Card allowed bearers free transport on all trams, buses, and trolley-buses of the City network, free entrance to Museums, Art Exhibitions, as mentioned earlier.
The distribution of the Olympic Identity Cards took place in three distinct phases, i.e.: (a) pre-Olympic: preparation; (b) Olympic period: final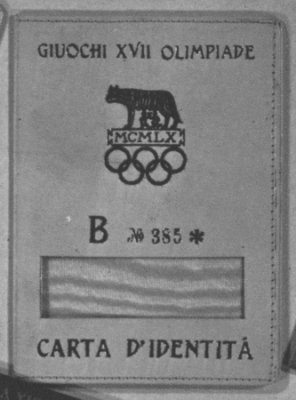 adjustments, validation and release of Olympic Cards with distribution of badges and commemorative medals; (c) post-Olympic period: closing of activities and summing up. The first phase implied particularly delicate work with the dispatch of the Cards to all National Olympic Committees and International Sports Federations. The second period, from 10th August to the end of the Games, was necessarily more complex: the validation of Olympic Cards reached as much as 800 per day, implying continuous work from 8 a.m. to midnight. The third period was devoted to the summing up of distribution to each single country, which gave one the various final totals.


DISTRIBUTION OF OLYMPIC CARDS:

CATEGORY
COLOUR
TO WHOM ISSUED
CARDS
DISPATCHED
CARDS
VALIDATED
Card A
White
Members of the I.O.C.

160

155

Card B
White
International Sports Federations

450

300

Card C
White
National Olympic Committees

779

432

Card D
Blue
Judges, Referees, and Timekeepers

1,450

1,243

Card E
Pink
Journalists, Radio TV, and operators

1,553

1,552

Card F
Green
Athletes, masseurs, trainers, etc.

8,571

7,755

TOTALS

12,963

11,417
(Source Document: Official Report 1960, Vol. 1, page 450)