IDENTITY CARDS
Identity Cards, or Olympic Passports as they were also called, were issued to all persons on official duties or of official status and to all competitors. In view of the favourable experience gained at the London Games the Organising Committee took measures to have the Olympic Identity Card recognised as valid as a travel passport. Negotiations with the Passport Department of the Ministry of Foreign Affairs and the Aliens Department of the Ministry of the Interior led to positive results. By a Decree issued on Feb. 1st 1952 aliens were permitted to enter Finland and stay in the country between June 1st and Aug. 31st 1952 without visas and Olympic Passports were exempted from visa formalities as from March 1st, from which date their validity was six months. The Card served in lieu of a regular passport only in cases where the government of the country concerned consented to its use as an official travel document and transit visa. This was done by 32 countries. Olympic Identity Cards were of three kinds:
I. Green Identity Card
Green Identity Cards were issued to the following:
1. Members and staff of the I.O.C.
2. Guests of the Organising Committee
3. Presidents of National Olympic Committees and International Federations
4. Chefs de Mission
5. Members of families of persons in categories 1-4.
The green Identity Card entitled to entry to all venues. A pass card appended to the
Identity Card in Helsinki indicated the seat allotted to the holder in the guest stand.
II. Blue Identity Card
Blue cards were issued to:
1. Representatives of National Olympic Committees
2. Officials of International Federations
3. Team managers
4. Competitors
5. Members of juries and judges approved by International Federations
6. Officials approved by the Organising Committee
7. Coaches, physicians, technical assistants, masseurs, grooms, cooks, etc. attached to teams.
The blue card entitled to entry to Olympic Villages, stands reserved for competitors and
the dressing rooms for the holder's specific sport at the venues. It also entitled the holder to
free transport under the arrangements made in this respect by the Organising Committee.
III. Orange Identity Card
This, the so-called Press Card, was issued to:
1. Journalists
2. Radio and television reporters
3. Photographers
4. Film camera men.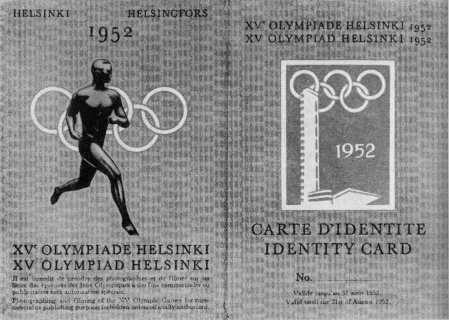 The privileges attaching to the orange card are separately described under the heading Information Service. Directives in regard to Olympic Identity Cards were mailed to National Olympic Committees and International Federations in February 1952. According to these the National Olympic Committee in each country was the body authorised to fill in and with its signature to validate the Identity Cards of nationals of that country. International Federations were advised to report the names of the judges appointed by them to the Reception and Public Service Department, which would inform the proper National Olympic Committees when supplying cards for their use. This indirect notification became a source of complications, chiefly because of the late date at which the International Federations nominated their judges. In most cases National Olympic Committees had to make passport arrangements for judges after completing the arrangements for their teams. All this could of course have been avoided if it had been possible for the federations themselves to make out Identity Cards for their officials, but to this the Finnish Ministry of Foreign Affairs would not consent. National Olympic Committees were to order Identity Cards before April 1st 1952, thus long before the time limit for final entries expired. The result was that orders tended to be lavish and exceeded real needs. The Organising Committee had to send out the following quantities of cards:

Green Identity Cards 298
Blue Identity Cards 9,234
Orange Identity Cards 1,848
Total 11,380

How many green and blue cards were in actual use it is impossible to say, for the National Olympic Committees generally neglected to return superfluous cards. On the other hand, new Identity Cards had to be made out for the entire membership of a few teams on their arrival in Helsinki, the original consignments having failed to reach their destination.


Other Identity Cards and Passes

The entry of Finnish officials to venues, training sites and housing centres was arranged by the issue of the following identity cards and passes:

1. Black Identity Card (with photograph attached) issued to persons in the service of the Organising Committee whose duties were of a kind involving movement everywhere

2 Red Identity Card (with photo) issued to sports officials and entitling to entry to specific venues only

3 White Identity Card with entries in red but no photo, serving as a pass for the performance of the duty
indicated. Issued to persons carrying out specific tasks at venues

4 Armlet with printing (in Finnish) »Messenger», »Vendor» or »Restaurant» entitling persons engaged in these tasks to proceed to their place of work at a venue

5 Pass Certificate issued to persons carrying out transport to venues.

(Source Document: Official Report 1952, page 155)