Olympic Games 1924 Paris
8th Olympiad
FRANCE
Sports: 20
Events: 131
National Teams: 45
Participants: 3,256
Diploma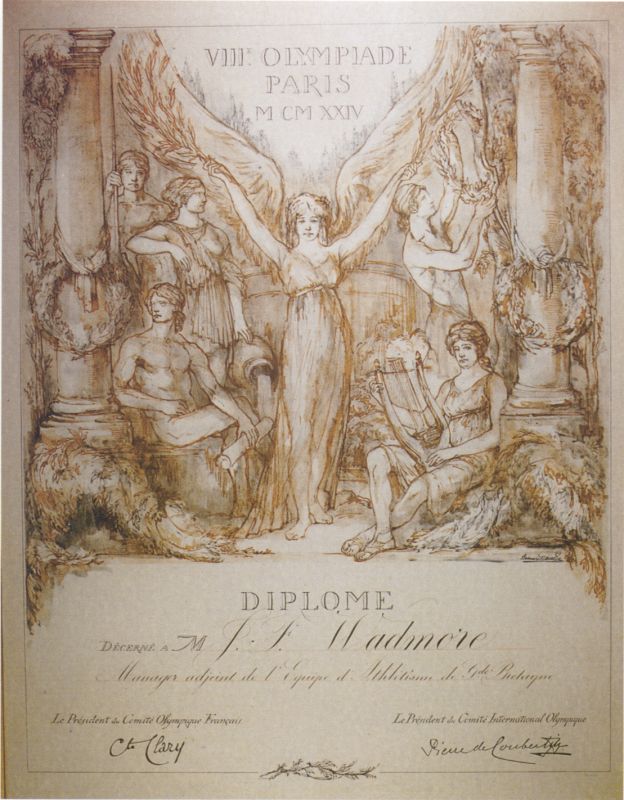 Signed by IOC President Pierre de Coubertin
GENERAL WINNER-DIPLOMA INFORMATION 1924
Description:
Winged goddess of Victory between allegorical figures.
Size:
49,5 x 63,2 cm
Design by:
Bernard Naudin
Printed by:
unknown
Signed by:
French Committee President
Graf Justinien de Clary and
IOC President Pierre de Coubertin
Copies:
10.700
The Official Report from 1924 was published only in french language.
We would be very thankful, if a friendly Olympic fan
would be able to translate the following text in the english language.
Le Diplôme Olympique
C'est à M. Bernard Naudin que la Commission des Arts a demandé de composer le diplôme spécialement établi pour les Jeux Olympiques. Le choix de M. Bernard Naudin fut suggéré par la Direction des Beaux-Arts.
M. Bernard Naudin se mit au travail après beaucoup d'hésitation. Il ne lui fut point dissimulé que le tirage de son dessin serait donné à l'imprimeur dont le prix de revient serait le plus bas, et il appréhendait que ce souci d'économie ne fit du tort à la parfaite interprétation de son modèle. La Commission le rassura en lui prouvant, par de nombreux exemples, que l'économie n'allait pas nécessairement à l'encontre d'un travail bien fait et que c'étaient, au contraire, souvent la dépense exagérée et le mauvais goût qu'on rencontrait ensemble. Plusieurs maisons réputées de Paris furent mises en concurrence et accordant crédit à la bonne conscience artistique de notre collaborateur, il fut associé à la délibération qui précédait le choix définitif, qui se porta sur la maison Dewambez.
Le Comité Olympique Français eut la bonne fortune, par acette association des diverses compétences techniques et de tous les efforts, de trouver le procédé de reproduction à la fois le plus fidèle et le plus avantageux. L'établissement de chaque diplôme au nom du lauréat ou du participant fut confié à un service de calligraphie installé au Comité Olympique Français. Il fut ainsi établi 10.700 diplôme qui, hormis ceux remis directement, furent expédiés à chacun des Comités Olympiques par les soins de sa légation à Paris.
(Source document: Official Report 1924, page 802)