Badges 1972
Badges for Personnel
All ID card holders and guests of honor in category G were given small metal badges with a pendant in the color of their ID cards.
The following colors were used:
Category Color
IOC
Guest Gold
National Olympic Committees
International sport organizations Silver
National Olympic Committee
Chiefs of delegation
Attache
Guest
OC executive board
OC
Olympic Construction Company White
Jury
Referee Orange
Press
Radio, television
Motion pictures Light green
Athlete
Team official Light blue
Olympic youth camp Dark blue
These badges could not be used for admission to competition sites or other. Olympic facilities; they had value only as ornamentation or a souvenir. An exception were the badges of ID card holders in category A. They expressed the privileges of this group with respect to the control service.
These badges were issued only with passes. The OC issued about 28,000.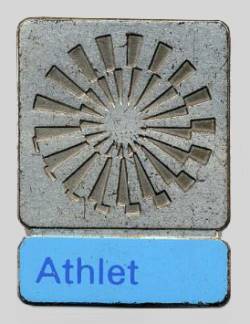 Language Badges
Groups of persons who had frequent contact with visitors of the Olympic Games, such as hostesses, the security police, and service personnel, received language badges. Those languages in which the owner was verbally proficient were listed on the badge. In some cases name tags
were also used.
The OC extended this special service by providing Munich citizens who were proficient in language with these badges as well. The Munich newspapers solicited individuals and the extension services of the university offered additional language courses in preparation for the Olympics.
During the Olympic Games about 25,000 persons wore the language badges of the OC.
Other Badges
For the following specific groups of persons the OC furnished badges:
Physicians
Fire Department
Doping control
Protocol
Sales personnel
OC Executives
Security and control service (Office for Public Order)
Also, the name tags must not be forgotten.
(Text from: Official Report 1972, Vol. 1, page 321)